Whats Mask Standards required?
1. Introduction
With the continuous deepening of the prevention and control of the Pandemic caused by the Covid-19, professional terms such as FFP2 N95 and KN95 Mask have attracted widespread attention on the Internet, and the standard of masks has entered the public's field of vision.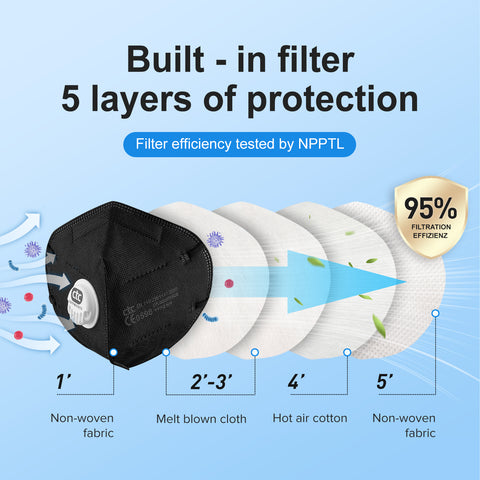 "When others enter the living space of a home quarantine person, they should wear FFP2/KN95/N95 and above particulate Protective Masks, and do not touch or adjust the mask during the period."
For personnel in special industries, "Medical Protective Masks", "Medical surgical masks", "disposable medical masks", "FFP2/KN95/N95 and above particulate protective masks" have been mentioned many times.
So, what is the meaning behind these proper nouns? This article uses national standards to look at the standard sources of various Masks and analyze their similarities and differences.
2. Mask Overview
This article investigates the Mask standards of the major countries. The survey of mask standards in various countries is as follows:
District

Non-Medical Masks

Medical Masks

China

GB2626-2006《Respiratory protective equipment Self-priming filter anti-particulate respirator》 

GB19083-2010 《Technical Requirements for Medical Protective Masks》

Industry standard YY 0469-2011 《Medical Surgical Mask》

Industry standard YY/T 0969-2013 《Disposable medical masks》

USA 

Federal Law CFR 42-84-1995 《NIOSH Guide to the Selection and Use of Particulate Respirators》(NIOSH  Guidelines for the selection and use of particulate Protective Masks)

American Academy Standards ASTM F2100-2019《Standard Specification for Performance of Materials Used in Medical Face Masks》(Standard specification for the performance of medical mask materials)

Europe 

EU Standard EN149-2001《Respiratory protective devices - Filtering half masks to protect against particles - Requirements testing marking (Respiratory protection device. Filter half mask for particle protection. Requirements, inspection and marking) 》

EU EN14683-2019《Medical Face masks - Requirements and test methods(Requirements and test methods for Medical Masks)》 
Most China FFP2 Respirators meet CE standard EN149 & China's KN95 GB2626 standard.